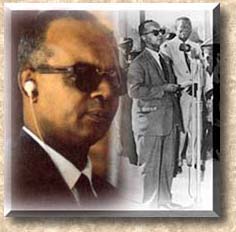 At the stroke of midnight on August 31, 1962, Trinidad and Tobago chimed in its independence. In the fore-court of the Red House in Port-of-Spain, the Royal Marines Band came alive. All eyes focused on two tall flagpoles.
One flagpole gently lowered the Union Jack. This was followed by the gaily fluttering red, white and black flag of T&T which slowly and deliberately rose. All this to the sound of the National Anthem, specially written by Pat Castagne.
On the morning of Independence, Eric E Williams, the first Prime Minister, said: "Your national flag has been hoisted to the strains of your National Anthem, against the background of your National Coat of Arms, and amidst the beauty of your National Flower... You are on your own in a big world, in which you are one of many nations... You are nobody's boss, and nobody is your boss." [Read the full address by Eric Williams]
On Tuesday, August 31, 1999, T&T celebrates its 37th year of independence from Britain. Trinbagonians celebrate Independence Day in various ways. Some of us may choose to relax at home, happy for the day away from work; some of us may go on family outings; some of us may go to the beach (a difficult feat at times though we live on an island!); and some of us may just sit back and reflect on how this great nation has grown and what it has achieved in the last 37 years.
In recent years, an activity that has become very popular is attending the fireworks display at the Queen's Park Savannah in Port-of-Spain on Independence night. Hundreds of citizens go and you're sure to find locals from as far south as Freeport, and from as far north(east) as Scarborough. The fireworks are a sight to behold and, funny enough, what sticks in your head more than the boom of the fireworks are the oohs and ahhs of the crowd after each explosion of colour into the night sky. Where will yoube this Independence Day?
---
HOME