The National Birds
of Trinidad and Tobago:
Scarlet Ibis & Cocrico
THE SCARLET IBIS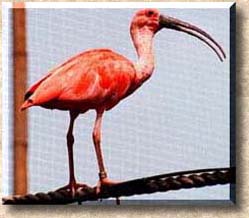 The Scarlet Ibis (Eudocimus ruber), locally known as "flamingo", makes its home in the Caroni Bird Sanctuary in the Caroni Swamp - an area set aside by the government for the protection of these colourful birds.
The Caroni Swamp includes 15,000 acres of marshland, tidal lagoons, and mangrove trees. Several thousand Scarlet Ibises nest and roost in the sanctuary and are often seen in large numbers during the last two hours of daylight.
Larger numbers of Scarlet Ibises can be seen during the breeding season, from April to August. These birds feed mainly on crabs which they seek out on the mud flats exposed at low tide and on the stilt roots of the red mangrove. Boat tours of the Caroni Swamp are available throughout the year.
THE COCRICO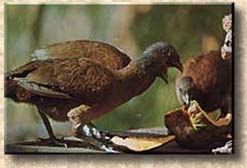 The Cocrico (Ortalis ruficauda), also known as the "Chachalaca", is a rufous-tailed, tropical pheasant indigenous to Tobago. They tend to inhabit the higher areas of the island amidst the forest and sometimes the dry scrubby lands bordering cultivated areas.
Cocricos are known for sounding a loud, grating chorus at dawn and dusk. The sound is a raucous cocrico repeated several times, hence the name of the bird.
The Scarlet Ibis and the Cocrico are only two of over 400 species of birds recorded in Trinidad and Tobago.
Ref:The BirdsBy Richard P French;David Frost Introduces Trinidad & TobagoEdited
by Michael Anthony and Andrew Carr. Copyrightę1975 by Andre Deutsh Limited.
HOME